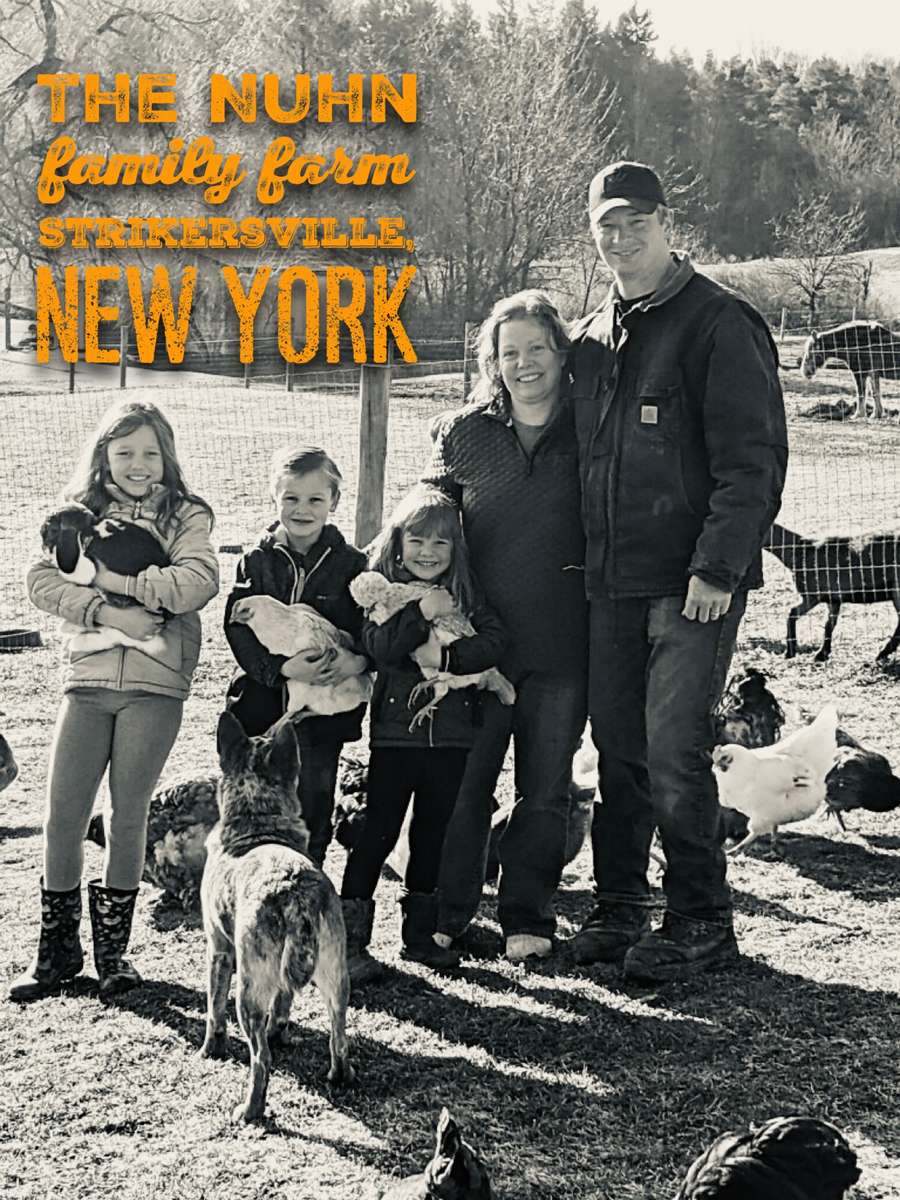 The Nuhn Family Farm
Great farmers, great harvest.
I started off the day running into to town and hitting up the Farm Store in Alden up for a few necessities before replanting my exploding heirloom tomato plants back at Red Brook Holler (that's what Mandy and I call our place out in Bennington). After that project I washed up and was updating this here website when the dogs went crazy.
Mandy says: The Egg Lady is here! And I go out to the driveway to meet Jessica Nuhn who's dropping off This Little Pig's eggs and chicken for the week. Jessica, her husband, Dave, and a mess of kids raise meat chicken, egg chickens, quail, a few lamb in the most beautiful little farm on Route 20A in Strykersville, NY. They are such conscientious stewards of their stock and keep a neat, organized farm. Jessica feeds those chicken fancy lettuce, organic veggies, even flax seeds and all sort of gnarly health-food types of things...and it shows in the harvest. The meat is dense but tender, it tastes like something you don't normally detect when eating chicken...it actually tastes like CHICKEN!!!
And the eggs. All you need to do it crack the paper-thin-shelled store-bought egg next to one of her inconsistently sized, beautifully shelled, brown and blue eggs that take a little effort to break and you'll see. They are not watery and loose but firm and sort of sturdy, the yolks are orange or even a reddish-yellow that make the commercial version look pasty and pale. I've got to believe they have more nutrition per egg than those paltry, white, perfect-sized factory eggs grocery they certainly make better pasta, better baked good and the richest Hollandaise sauce. And there is no doubt that those chicken live better, cleaner, healthier lives out there in the barnyard on 20A.
Jessica is a nurse and Dave works full time, too...but they take they time to produce really exceptional stuff, and we GET to work them, and you get too enjoy the fruits of their labor! Plus, they're really great folks, too!